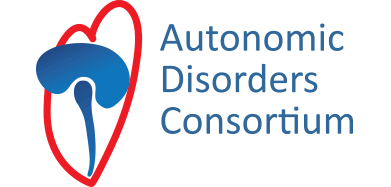 The Autonomic Rare Disorders Clinical Research Consortium (known also as the Autonomic Disorders Consortium, ADC) investigators and associated patient advocacy groups (PAGs) joined forces in 2008 to establish a broad-based initiative to find better ways to identify rare autonomic diseases, elucidate fundamental mechanisms of their pathogenesis, and discover therapeutic strategies to treatment.
The ADC encompasses five major centers: Vanderbilt University, Principal Investigator (PI): David Robertson, Italo Biaggioni, Nashville, TN; Mayo/Rochester, PI: Phillip A. Low, Rochester, MN; New York University, PI: Horacio Kaufmann, New York, NY; Beth Israel Deaconess/Harvard, PI: Roy Freeman, Boston, MA; and NIH Clinical Center PI: David S. Goldstein, Bethesda, MD; together with seven additional US centers that deal with these diseases. ADC research efforts focus on the rare autonomic diseases of multiple system atrophy (MSA), pure autonomic failure (PAF), as well as Dementia with Lewy Bodies and other synucleinopathies, postural tachycardia syndrome (POTS), baroreflex failure and genetic disorders of norepinephrine synthesis.
The main goal of the ADC is to build on recently gained knowledge in order to understand and alter the course of these diseases. The ADC has benefited from the collaborative approach undertaken during the funded period and propose in this renewal to address the patient care, research, and education needs of individuals with rare disorders. With the generous help of the Data Management and Coordinating Center (DMCC), the ADC developed a website that educates patients, researchers, and clinicians. This website (www.rdcrn.org/ADC) also assists with patient registration of patients and recruitment for the various Consortium studies.
The ADC is fortunate to have the collaboration of patient advocacy groups. These patient support groups are engaged in the activities of the ADC and have assisted the Consortium with outreach activities, recruitment and fund-raising. They have also provided crucial advice that has influenced Consortium research activities and have guided efforts toward the kinds of studies that seemed most impactful from the patient and caregiver's standpoint.
The ADC has met virtually all specific aims of the current funding cycle over the past four years. 518 patients have been enrolled in ADC multicenter cooperative projects. Completed projects include: (1) a multicenter randomized double-blind trial testing the efficacy of rifampicin in delaying the progression of MSA, (2) a study replacing norepinephrine in patients with neurodegenerative autonomic failure, and met enrollment goals in the natural history study of pure autonomic failure. New lines of research have resulted from these efforts leading Consortium members to submit at least 5 grant applications outside the Consortium. Of these, two have been funded by the Multiple System Atrophy Coalition, a PAG.
Following a favorable effect of drug rifampicin in a mouse model of MSA the ADC conducted a randomized, double-blind, placebo-controlled trial in patients with MSA to test the effect of rifampicin to alter disease progression. 100 patients were recruited from 10 U.S. sites and met target enrollment ahead of schedule. While the results of the study were negative, it nevertheless provided extremely valuable information that has informed future design of projected clinical projects.
50 patients were enrolled in a proof-of-concept study to examine the role of norepinephrine reuptake blockade with atomoxetine. This was a diagnostic and therapeutic approach for patients with neurogenic orthostatic hypotension. This has led members of the ADC to propose a multicenter trial to test the efficacy and safety of this approach for which they are seeking funding outside the RDCRN.
Research completed by Consortium sites has identified and validated instruments for measuring neurologic and autonomic symptoms and deficits. The results indicated the potential value of biomarkers to be studied further. There is an opportunity to expand the phenotyping and natural history study to include ADC international counterparts. The ADC will investigate brain imaging and alpha synuclein presence in skin biopsies and red blood cells as biomarkers.
The MSA Coalition provided financial resources to establish a truly Global MSA Registry thereby fostering cooperative and interactive strategies to achieve the crucial number of MSA patients to facilitate discovery. The ADC is undertaking a trial of mesenchymal stem cells directed at combating the growth factor deficiency recently identified in MSA. ADC pilot studies suggest that atomoxetine can improve orthostatic tolerance. The ADC is proposing similar studies aimed at reducing splanchnic capacitance in neurogenic orthostatic hypotension. This approach will harness residual sympathetic tone with 3,4-diaminopyridine in MSA and a novel vagal stimulation strategy in POTS. These studies will be linked with efforts to expand Consortium development of autonomic biomarkers.
In conjunction with these successes, 10 outstanding ADC trainees had the opportunity to participate in the care and clinical investigation of patients with rare and disabling autonomic diseases over the past 4 years. The research and clinical experience trainees gain complements the more formal educational curriculum developed among the Consortium institutions to provide investigators with the knowledge base to develop careers of discovery. The facilities and educational resources provided by the CTSAs within NCATS are vital for the success of these programs.